Our Location - Small Santa Maria Beach
The beach also happens to be an excellent place for snorkeling, relaxing  and chilling under the shade of an umbrella..There are also a snack bar and a couple of tavernas available.Other than diving you can enjoy other water related activities as well. Why not try the kayaks, paddle and pedalos?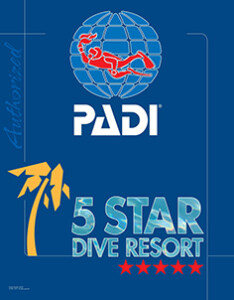 PADI Five Star Dive Resorts excel in providing traveling scuba divers with memorable scuba diving experiences by providing professional and outstanding service. These dive operations are progressive PADI Resorts that offer the full range of PADI scuba programs, have a good equipment selection and offer dive activities that promote aquatic environmental responsibility. PADI Five Star Dive Resorts are committed to providing quality diver training and continuing education programs that include dive experiences and environmental awareness. These dive businesses often cater to the traveling diver, but are also active in the local community promoting the benefits of recreational scuba diving and snorkeling.
This organization convened on January 10th 1959 in the Principality of Monaco. The CMAS has developed a CMAS International Diver Training Certification System that consists of Diver, Specialty Diver, Technical Diver and Leadership Diver Training Standards and which allows divers, that have been trained in accordance with the prescribed CMAS International Diver Training Standards, to have their certifications recognized throughout the world in countries that are members of the CMAS family of divers.
For Scuba equipment rental, proof of certification must be shown.